allergies
now browsing by tag
People often remark how articulate and clear-spoken our four-year-old son Zevin is. So, when just moments after the doctor pricked his skin with the needle, Zevin became a different person, clapping and flapping his hands as he tried to explain something, and making a high-pitched "eeeee" noise, it was both startling and disturbing. Normally a remarkably coordinated four-year-old, he began bumping into tables as he stumbled around the room. His cheeks and ears flushed and his lips became bright red.
And while this autistic-like symptoms were exaggerated and (thankfully) temporary, it was easy to see that this was a compressed version of behaviors we'd seen in varying spells in him before: the tense, aggressive energy, a whole different animal than the cheerful boyish tumult we welcomed.
We were in the allergists office at Northwest Center for Environmental Medicine, following up on a hunch that Zevin had more than just gluten intolerance. This was the second of three allergy tests for the day, but the most striking. The first was for soy, this second one for corn, and eggs was yet to come.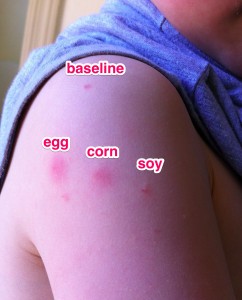 The morning long test began with a base-line pinprick: a tiny shot of glycerin in his upper shoulder, the control dose to ensure that any reactions we saw were not just due to needles or some other aspect of the test. Then came a dose of the allergen, followed by a ten minute observation of his behavior and skin reactions (at right), then another reduced dose of the allergen and more observation, and the cycle was repeated until the "no reaction" dose was reached.
His reaction to corn wasn't a complete surprise: we'd already noticed that following meals with corn-based ingredients, he seemed to act wilder, obstinate and harder to reason with. We suspected it was corn, but it was so hard to tell because corn and corn derivates are ubiquitous in the American diet: 40% of all packaged goods contain corn derivates. As Michael Pollan puts it: if you are what you eat, most of us are corn.
More surprising was his reaction to eggs, which I'd personally been pushing on him as "the perfect protein": he became limp, quiet and withdrawn, draping himself over Michelle. It would have been easy to believe he was just worn out from his corn-fed frenzy, but we knew him well enough to know that even an hour of frenzy wasn't enough to wear him out this much.
Thankfully, the symptoms from the tests subsided, and we settled back at home to start planning next steps: a restricted diet and a course of desensitization (see The Allergy Buster in the New York Times) that would hopefully allow Zev to return to normal eating soon.
But as we ran over the clues we'd had over the years that some food allergy might be impacting Zev's behavior and development, we kept coming back to an awful thought: what about all the kids who suffered from similar allergies whose parents didn't know?
Imagine that your child has behavioral issues: maybe they're acting out or maybe they're withdrawn, maybe missing development milestones, having trouble with speech or aggression, or seem to be overly sensitive to stimulus and noise. Maybe you chalk it up to "that's just the way my kid is".
But maybe it isn't. Maybe the food you've been eating yourself, day after day while you nursed, and then the food you've served for breakfast lunch and dinner, is causing a reaction in their body, in their brain, that is changing their behavior and development from what it "should be" to what "it is".
The numbers of children diagnosed with autism, ADHD and food allergies have all been skyrocketing (see Diagnoses of Autism on the Rise, ADHD Seen in 11% of US Children, Food Allergies Among US Children). Some people think it's just better (or overaggressive) diagnostic techniques, others think something has changed in our environment or food pipeline, or maybe some epigenetic shift caused by who knows what. It's easy to see, though, how a persistent, system-wide allergic reaction in the body, or anything that changes how key nutrients are absorbed, could impact the brain development of a growing child.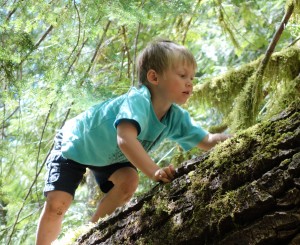 The symptoms Zev was experiencing in that doctor's office were a mixture of what would ordinarily be classified as autism or as ADHD: flapping hands, sub-par motor control, difficulty in focusing,  fits of irrational anger. His experience there was sudden and stark, because of the dose and the subcutaneous way it was administered, but a child with a similar allergy who ingested the allergen (corn, in this case), day in and day out, would experience a low-grade version of these symptoms all the time. Without the contrast to "normal" behavior, it would be easy to assume that that's simply "the way my child is" and ignored.
Or maybe worse, assume he had a disorder, and medicate him.
In the short week since the test, and since we eliminated corn, soy and egg from his diet, we've already seen a calmer, more thoughtful, well-reasoned child (except when he's tired, he is a four-year-old, after all). It's been hard, but weighed against a lifetime of the alternative, we know it's been worth whatever we have to do.
But we grieve for all the kids out there who may be on a path to special ed classes, medication or just tense, angry relationships with their frustrated parents.
What's been most amazing is the number of people who seem to know that food allergies might be at the root of their children's behavioral issues, but are unwilling to find out more, or to do something about it.
"I just couldn't do it, it's too hard to totally change the way we eat," we hear, over and over.
I get it. Honestly, if it weren't for Michelle, I wouldn't be able to do it either. I'm not "doing it". I only eat well, and Zevin only eats well, because she does the hard work to make it easy. And I'm grateful for that.
Sometimes I wonder: what if a doctor in a white lab coat told people that there was this medicine their child could take, and it would cure their kid's ADHD or autism, and the medicine was delivered in this special food, but it was important for the medicine to work, that they not eat anything except the special food. Would people do it?
Of course, the 'medicine' is just good, wholesome food, without corn or gluten or dairy or whatever the kid was allergic to.
But maybe the key to that story is the doctor "giving them the medicine". Most people don't know where to start when it comes to remodeling their diet. I hope that's what Michelle's work (and workshop) will help address. If it can help even one more child live a different, better life than he would have, it's well worth it.
[5/10/2013: I should clarify, since it may have been ambiguous, that Zevin does NOT have autism or ADHD, not even a little bit. He does has food allergies that we've been carefully studying and addressing. What I was hoping to convey is that based on his reactions to foods, it might have been mistaken for something larger, and, if left unaddressed, could possibly have led to something more permanent. And I hope that no child with a similar make-up is given a mistaken diagnosis.]