paleo
now browsing by tag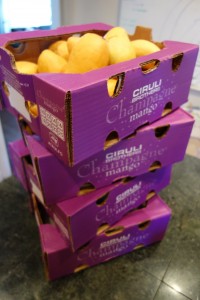 Mangoes are marvelous. A juicy sweetness like nothing else. They're great plain or with a squeeze of fresh lime and a light sprinkle of cumin. Smoothies turn velvety with cubes of frozen mango blended in and have you ever had a mango lassi? Wow, the coconut milk-mango combo is such a treat! Mangoes also are great as the base for chutneys and salsas. Fresh, frozen or dried, hot or cold, mangoes are amazing.
Our favorite kind is the small champagne, sometimes called ataulfo or honey, mango. They're not stringy like their larger cousins are.  The skin turns a golden yellow when ripe and inside is a brilliant orange-golden flesh with a thin, but large seed. And they are delicious. Incredible, really.
Available only twice a year, spring and summer, they've been for sale here in Seattle recently. We do love them, but they're pretty expensive. Recently, though the sale was so awesome that I decided to stock up; we bought six cases of 12.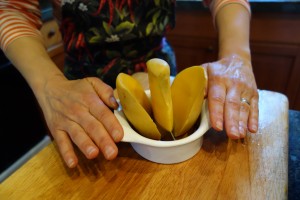 But fresh mangoes don't last very long, so what do to do? Eat them, dehydrate some, eat some, puree some, eat some, freeze some, eat some more.
I set up an assembly (disassembly?) line to tackle the job. I rinsed them, sliced & pitted them, and scooped out the flesh. The choicest pieces were then sliced thinner to become dried mango. Anything slightly mushy or scraggly would be pureed, with the puree destined for fruit leather and mango ice cubes.
To make fast work of opening mangoes I rely on my trusty mango splitter, a gift from my mother-in-law a few years back. That slicer changed the way we look at mangoes in this house. I used to avoid buying them regardless of their succulent flesh because the seeds can be a beast to remove. Then came the magical mango slicer, and we've been enjoying copious fresh mango ever since.

This was the first time I'd dehydrated mango, and now I'm hooked. We used the Nesco FD-60 Snackmaster Food Dehydrator, and not only is ours so much less expensive than store bought, it's far superior. The slices are dried but not at all dry or tough. They retain a slight, but easy chew and the flavor is much more intense than the dried mango we buy bought.
After pureeing I poured some of the mango into ice cubes trays, froze them, then popped them out and stored them in ziplock bags in the freezer. These were a hit, too: they add a delicious punch to Jordan's morning smoothies or can be sucked on like little popsicles. Eating the cubes is yummy, but slippery!
The rest of the puree was dehydrated and, though it made decent fruit leather, wasn't our favorite of the three preparations. Flavor-wise it's great, but it's a bit tough and gummy on the teeth. This was also my first foray into fruit leather dehydration, so maybe next time will be better.
And there will be a next time. It's incredibly gratifying to prepare food for later knowing that I saved some moolah in the process. And the outcomes were so deliciously satisfying that I'm sure by the time fall rolls around, and the stores fill with mangoes again, our stash will be long gone and we'll be eager for more.
Ah, Passover. With the proscription on "leavened bread", it's already almost gluten-free. Except, of course, for the star attraction, matzah.
Fortunatley, we found a very tasty "matza-like" alternative: Yehuda Gluten Free Matzo Style Squares. They're tasty, a bit sweeter than their glutinous cousins, and just as difficult to break along the scoring. The matza, made from potato starch, is kosher, but not for "sacramental purposes". Since we can't have gluten, though, these work as a suitable replacement for our family.
Of course, our family has about 20 other foods on the "no" list, but I actually enjoy the challenge of creating a menu that will accommodate everyone's diets and still be thoroughly enjoyable and memorable.
For a seder (the Passover ceremony and meal), there are a few traditional dishes that I use as my base, and then, keeping in mind what's safe for all diners to eat, I make a menu.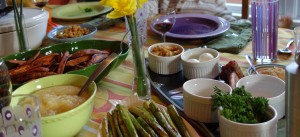 This year we ate:
Matza & Charoset
Deviled Eggs
Matza Ball Soup (thank you, Elana's Pantry for the matza ball recipe)
Green Salad with Jordan's Famous Dressing*
Roasted Sweet Potato Strips
Roasted Balsamic Asparagus
Roasted Beets with Orange Zest
Applesauce
Followed by
For the matza balls, Elana's pantry recommends some specific almond flours that have a fine texture. We didn't have those, so I substituted Bob's Red Mill Almond Meal/Flour instead. The matza balls came out tasting very much like a "regular" matza ball, but with a slightly grittier texture, at least when they first touched the tongue. It wasn't a bad sensation, just a little jarring when you're expecting a fluffy soft matza ball like your bubbe used to make.
Yum, right? Keep in mind that this delicious menu contained only whole foods (with the exception of the matza, but, hey – you gotta have matza!), had no grains or refined sugar. Any of the recipes could work for a host of healthy diets – whole foods, gluten-free, and paleo. Most are suitable for both SCD or GAPS.
* Equal parts 1/2 c olive oil, 1/2 c balsamic vinegar, 3 healthy "splorches" (Jordan's words) of stone ground mustard, one hefty spoonful of honey, in a blender.