It's Gluten Free, but is it Healthy?
I never regret not eating gluten: I felt so bad before that it's just a no-brainer now. I've accidentally eaten it and then suffered terrible reminders of what it does to me, but since I cut it from my diet a few years ago, I've never intentionally eaten it.
And that worked for a while. Like a sort of secular "removal of chametz", I cleared the house of gluten and went shopping for gluten-free goodies.  The taste and texture of gluten-free foods required an adjustment, but after a while of having no baked goods, no breads – well, just about anything was worth trying. So with some taste tests and a then few things immediately ditched, I found many gluten free foods to replace what was now verboten. Cereals, crackers, cookies, pasta, boxed and frozen foods. And as time passed, more and more things became available at the grocery store.
The quality of gluten free food improved, too. We tried them all and increased our pantry inventory. We ate gluten free waffles, gluten free muffins and gluten free cereal for breakfast. Mid-morning snacks for my (then) toddler and I usually included gluten free crackers or gluten free granola bars. Lunch often found itself on gluten free bread with some gluten free chips on the side. Gluten free pasta would find its way onto our dinner menu at least twice a week along with gluten free burger buns and gluten free pizza. Gluten free treats were never in short supply, either, whether whipped up from a mix or eaten straight from a box.
We even dined out with more frequency as local restaurants jumped on the gluten free train. Plenty of gluten free buns and pastas were offered on menus alongside fries and onion rings prepared in safe, dedicated fryers. Eating gluten free became easier and tastier by the day.
That is, until the day that I realized that I no longer felt great.
I started questioning my diet and looked at what I was really eating. It was all gluten free, most of it was even organic, but it was highly processed. One of the cornerstones of eating healthy is variety, but after reading several packages one thing was clear – they all had the same basic ingredients, and those ingredients weren't particularly healthy, either: rice flour, potato starch, xanthan gum, and sugar in some form or another  topped the list. None of those provides much nutrition and practically zero dietary fiber.
These gluten free treasures were full of processed starches and white sugar. Are they safe for someone on a gluten free diet? Sure. Are they healthy? Most often, no. And, to add insult to injury many aren't even fortified the way other processed food is so they're utterly lacking in vitamins. Processed foods have the good stuff processed right out of them so the FDA requires that nutrients be put back in. However, gluten free foods are not required to be fortified.
What would make me feel better? What is our bodies need to fuel themselves? Our bodies need nutrient-dense, healthy foods. Many of modern health ailments didn't exist before processed food, or at least not in the numbers that they appear today. So if we were healthier before we started putting food in boxes, what did that food look like? It was unprocessed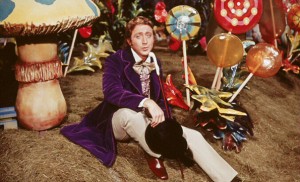 . These foods are called whole foods because they're basically unchanged from how they grew or lived. I guarantee that you won't find crunchy, airy cheese puffs growing in a field or vines of multi-colored licorice draped in trees (except perhaps, in the factory at right). And if you eat meat, it probably didn't grow with nitrites or fillers.
So I did another pantry overhaul. I knew that a healthy diet was based on whole foods – foods that have no processing, that look like they did when they grew or walked or flew. I'd plan meals around vegetables, meats, nuts, seeds, and fruit. I even changed the fats we use – no more processed oils like canola or grape seed. Instead we'd use butter, olive oil and coconut oil. Anything that came in a package was scrutinized – was the ingredient list made of real food? Were they whole foods? I allowed for nut flours and coconut flour because they're basically a whole food, they're just ground up. Nothing was chemically altered, no ingredients added to make the product. Same thing with nut butters. I even found some crackers and packaged snacks that met this criteria.
I kept a few packaged products like gluten free pasta, rice crackers and truly wholesome granola because I knew that I'd occasionally need a few quick-fix solutions, especially until I got this new whole foods eating plan working for our family. Our pantry was now pared down considerably and our fridge and freezer more filled with meats and produce. At first I spent a lot of time in the kitchen prepping and cooking but as time went on I developed strategies to minimize my kitchen time and still turn out healthy, tasty meals. It's certainly more work than ripping open a box and adding water, but not much and we all feel great and that's worth all the time in the world, if need be.
If completely overhauling your pantry seems daunting, here are three high-impact things you can do to reduce your reliance on processed foods:
Cut up several days worth of carrots, peppers or other crunchy vegetables in advance, then store them in a clear jar in your fridge. Grab these when you when you want something to munch on.

Instead of the toast that goes with your plate of eggs in the morning, try putting your egg on a bowl of quinoa or even oatmeal. Sprinkle a little salt and drizzle a little honey for a sweet-and-savory and satisfying breakfast.
A great substitute for sliced "lunch meats": real meat. Grab a pre-roasted chicken from PCC or Whole Foods, then pull it off the bones for convenient snacking.